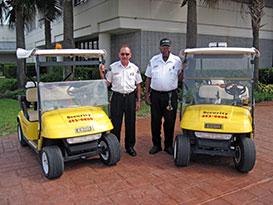 Safety and Security
The mission of South Florida State College Security's Department is to cultivate a safe atmosphere which supports the educational process and promotes academic and personnel achievement for our students, faculty, and staff, by protecting life and property, preserving peace, preventing crime and continually improving the professional operations of the department.
Campus Security Guards
Campus Security personnel are not law enforcement officers and do not have the authority to arrest individuals. Security officers have the authority to ask persons for identification and to determine whether the individuals have lawful business at South Florida State College. Security officers have the authority to issue parking violations to students, faculty and staff. Criminal incidents are referred to the appropriate local law enforcement agencies that have jurisdiction for the individual campus or center. Security personnel are responsible for the safety of personnel and the safety of buildings and their contents. On the Highlands Campus, security guards are on call 24 hours a day / seven days a week / year-round.
Campus Access
The college schedules classes 7 a.m. to 10 p.m., Monday through Thursday, 8 a.m. to 5 p.m., Friday, and 8 a.m. to 4:30 p.m., Saturday. Normal operating hours for most office functions on all campuses are 8 a.m. to 5 p.m., Monday through Friday. Classrooms, labs, and other educational facilities are restricted to students, faculty, and staff who have a legitimate need to be there. For safety reasons, classrooms and labs are locked when not in use and are considered restricted from general public access. Except for special events, the college is closed to students and visitors during other hours.