Panther Baseball Coach's Corner
Rick Hitt
Head Baseball Coach
863-784-7036
hittr@southflorida.edu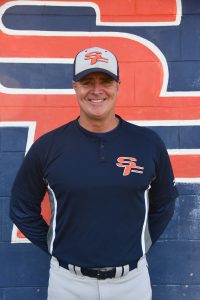 Rick Hitt began his 22nd year as the longest tenured coach in Panther Baseball history in August of 2019. In May of 2020, Hitt will be inducted into the National Junior College Athletic Association's Baseball Coaches Hall of Fame. Hitt is currently in two additional Halls of Fame, the Santa Fe College Hall of Fame as a member of the 1985 State Championship Team, and the Florida College System Activities Association Hall of Fame. Hitt began his coaching career 32 years ago as an assistant coach at Sebring High School. 
Hitt's expectations of the players are simple: "Dedicate yourself to being an outstanding young man and representative of SFSC daily, commit to academic accountability and graduation, and play the greatest game in the world as hard as you can play it each day you get the chance. The growth that occurs within this process has the opportunity to stay with you as you venture on in life."
Hitt and wife Jayma recently celebrated their 29th wedding anniversary together. They have two daughters, both SFSC graduates: Sydney and Cassady. Both daughters have joined their mother as teachers in the Highlands County School System where Jayma has taught for 33 years.
As a pitcher at Santa Fe Community College, Hitt helped the Saints to a third place finish in the 1985 NJCAA Word Series playing for NJCAA and ABCA Hall of Fame coach Harry Tholen. Hitt completed his baseball playing career at St. Thomas University where he played for current LSU and 2014 ABCA Hall of Fame inductee Paul Mainieri.
"I was blessed to have played for two highly respected coaches and outstanding people during my collegiate career," Hitt said. "It is not often one can say they played for two coaches who are Hall of Famers. I am very grateful for the opportunity they provided me."
Hitt recently completed his second term as the NJCAA Coaches Association president and his 15th year as a member of the FCSAA State Baseball Committee. Hitt now serves as the FCSAA State Baseball Chairman for the two-year system in Florida.
In June 2017 at the American Baseball Coaches Association National meetings in Omaha, Hitt was selected to join the presidency advancement of the American Baseball Coaches Association (ABCA), an extremely prestigious honor as Hitt becomes only the third NJCAA coach in the two-year system to be selected to join the ABCA presidency. Hitt is currently serving as the 3rd Vice President for the ABCA. Hitt is a member of the ABCA Executive Committee, ABCA Board of Directors, and the ABCA Standing Committee, serving coaches of the sport at all levels.
Most recently, Hitt and his wife Jayma were selected to serve as board members for the Kim Gose Cancer Research Foundation, established by the Gose family, following the passing of their great friend and Panther Fan Kim Gose. The local organization provides funding to families as well as funding to promote cancer research.
When not at the ballpark, Hitt simply enjoys spending time at home with his family and pets.
Hitt and his players look forward to the ride in 2020. "It is a great game, and one of the reasons why is the enjoyment of taking the ride with a great group of people around you," Hitt said. "My hope is our players will embrace that and enjoy the opportunities this season presents."
Matt Schaeffer
Assistant Baseball Coach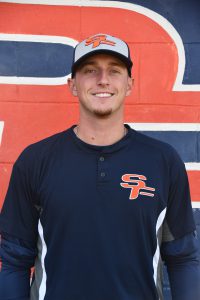 In 2020, Matt Schaeffer embarks on his third season as assistant baseball coach at South Florida State College where he looks to provide insight and instruction to pitching staff and to contribute to the Panthers' recruiting efforts.
Schaeffer's prior experience in the Florida College System comes as a player, when he pitched for Tallahassee Community College after transferring from Florida A&M University. At TCC, Schaeffer led the Eagles pitching staff in wins, saves, and appearances, including three decisions against Northwest Florida State College who went on to win the NJCAA World Series.
After his sophomore campaign, Schaeffer transferred to Appalachian State University, where he completed his career. In his two years for the Mountaineers, Schaeffer garnered notable appearances against some of the nation's top competition including then-defending NCAA National Champion University of Virginia, South Carolina, Tennessee, Missouri, South Alabama, Wake Forest, and then-defending National Champion Coastal Carolina.
As a student, he accumulated numerous academic awards, including the NJCAA's Academic Student-Athlete Award and appeared on the Dean's List and the President's List. Schaeffer earned a bachelor's degree in communication with a minor in leadership studies from Appalachian State University.
Immediately following his playing career, Schaeffer became the pitching coach for the Delray Beach Lightning of the South Florida Collegiate Baseball League, a summer collegiate league. Schaeffer helped lead the pitching staff to top honors across the league, which included a 25-14 record and first place in the North division, two league-leaders in saves, the second most shutouts amongst the league, and five pitchers named to the SFCBL All-Star Team. This culminated in a shot at the league title in the SFCBL Championship Series.


Brad Crone
Assistant Coach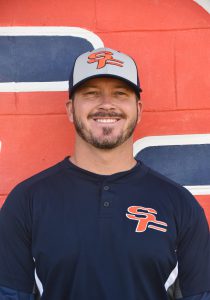 Coach Crone is a native of Fort Myers, Fla. who relocated to the Toronto, Ontario area following college. Crone, who enters his first year as a South Florida State College assistant, will be working with hitters, outfielders, and first basemen. Crone played at South Florida State College from 2004-2005. As a former Panther, he helped lead the team to the 2004 State Tournament with a school record of 38 games won. In his two years at SFSC, he helped the team win over 70 games, awarding him All Conference honors, team hitter of the year, and the team MVP award in 2005.
Prior to his first year as an assistant coach at SFSC, Crone has worked Perfect Game showcases, coached at the high school level as an assistant for the Ontario Royals from 2015-2019, and is also head of baseball development training at Athlete Institute in Orangeville, Ontario.
After his time at SFSC, he went to Seneca College in Toronto and graduated with a Turf Management/Business diploma. Crone also received his scouting certification from Sports Management Worldwide. He resides in the Toronto area with his wife Jena and their two sons Keilan and Taysen.