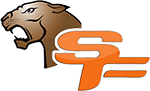 Panther Volleyball
Roster | Schedule | Coaches Corner | Camp
Welcome to the home of the fighting Lady Panthers!
Lady Panther Team Tryouts
SFSC's Lady Panthers Volleyball program is hosting tryouts on Saturday, Dec. 12, 11 a.m.- 1 p.m., in the Panther Gymnasium, SFSC Highlands Campus.
The team is recruiting middles, outsides, and setters.
You must be a high school senior to tryout. Bring a copy of your high school physical.