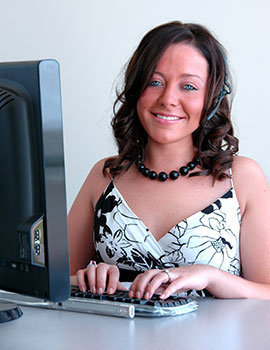 Glad I Could Help
Real Customer Service Situations for Discussion
"Glad I Could Help" teaches you how to turn an angry customer into a satisfied customer while dealing with misunderstandings, misinformation, and frustration. By practicing easy-to-learn techniques, you'll become adept at resolving problems and creating long-term loyalty among your customers.
This course covers how to approach these common customer service scenarios:
When the phone rings while dealing with a customer in person
How to soothe an irate customer who is having problems navigating an automated phone system or has been transferred numerous times
How to help a customer whose expectations have not been met
When and how to make an exception to a company policy to assuage an angry customer
How to appease a customer who has received an unexpectedly high bill or damaged goods
After completing the workshop, you will:
Understand the number one thing that matters to customers is how they're treated
Keep the focus on solving a customer's problem
Leave the customer with a positive, memorable impression
---
Peer Today, Boss Tomorrow: Navigating Your Changing Role
You've been promoted. How can you become a competent manager while maintaining good relationships with workers who once were your peers? This hands-on workshop uses real-world examples and four proven strategies to teach new supervisors how balance co-worker relationships with management responsibilities as they make the transition from "peer" to "boss." From this course, you will learn:
How to accept the responsibilities of your new leadership role
How to set clear boundaries with former co-workers and your new employees
The value of strong communication skills
The importance of decisive and strategic action
The course covers specific situations that new bosses typically encounter, including:
Overcoming the fear of losing friendships and rapport
Disciplining a former peer
Managing co-workers who are older
Enforcing a policy you may have broken prior to becoming the manager
Avoiding the appearance of favoritism
Keeping confidential information confidential
Admitting mistakes in a way that builds trust and credibility with former peers
---
The Extraordinary Leader: Going from Good to Great
Learn what distinguishes an extraordinary leader from an average one from internationally acclaimed leadership authority Jack Zenger. Drawing from extensive research, industry case studies, and his best-selling book, Zenger explores the five characteristics of extraordinary leaders.
Zenger believes great leaders are not born – they're made – and only great leaders make a significant impact. This course examines the five key strengths an extraordinary leader must possess and reveals how to use them to produce clear results.
"The Extraordinary Leader" can teach you:
How to define the the 16 competencies of great leaders
How to combine "strengths" to become an effective leader
How to recognize the difference between weaknesses and fatal flaws 
---
Entrepreneur Summit
Entrepreneur Summit teaches proven techniques for retooling and repositioning small businesses for a post-recession economy.
Topics:
Sales and marketing management
Organizational and workforce administration
Developing a business plan
Financial management
Leadership for managing a successful business
---
Power Tools for Business Writing
Learn to embrace the writer in you and produce clear, engaging written communications through Power Tools for Business Writing. This three-day workshop will teach you:
How to beat writer's block and jump start your writing engine
How to organize and focus your ideas
How to choose the right words, and spell them right every time
How to keep your reader interested
How to make your message clear and persuasive
This course will provide you with a quick reference "cheat sheet" for correct writing. You'll never hate writing again!
---
Closing the Deal: The Secrets of Selling
Whether you're selling an idea, an experience, or an event, the craft of selling takes on a new dimension when you complete The Secrets of Selling. Through this course, you will learn:
Why people choose your product – and why they don't
How to put potential customers at ease
How to master the art of closing
You will learn more about yourself, your talents, and areas you need to improve by:
Knowing yourself through a personality profile
Building relationships from ground up
Helping people make good decisions
Learning to respect yourself and others
---
Quickbooks – Simplify Your Business Tasks
Introduction to QuickBooks:
Getting familiar with Quickbooks
Creating a new company file
Working with lists
Setting up a chart of accounts
Setting up your items
Tracking customers and sales
Tracking vendors and expenses
Tracking sales tax
Intermediate QuickBooks:
Time tracking
Setting up and using payroll
Paying liabilities and taxes
Job costing
Purchasing and managing inventory
Building inventory assemblies
Tracking sales of orders and back orders
Your financial statements
Working with reports
Integrating Quickbooks with Microsoft and Excel
Importing and exporting
List information
Customizing Quickbooks
---
Other Business Courses
South Florida State College's Corporate and Community Education (CCE) Department offers workshops to improve your business throughout the year. Call SFSC for more information on these and other CCE classes:
Workplace Spanish
Learn functional phrases that are relevant to your occupation and community through this non-academic course.
Diversity Training
Increases participants' cultural awareness, knowledge, and skills in promoting better teamwork among different identity groups.
FOOD HANDLER'S CERTIFICATION COURSE
Teaches food handlers about safe food-handling practices to prevent food-borne illness.
PURCHASING PROGRAM
Demonstrates ways to build better bottom-line profits by making smarter purchasing decisions and better managing your company's purchasing activities.
RISK MANAGEMENT FOR HUMAN RESOURCES
Addresses employment law compliance, including policies and procedures, employee relations, recruitment and retention, employee development, and compensation and benefits.
STRESS MANAGEMENT FOR DAILY LIFE
Learn how to manage your stress level so that you can lead a healthier and more rewarding lifestyle.