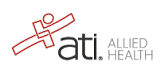 SFSC uses the ATI Test of Essential Academic Skills (TEAS) exam by Assessment Technologies Institute (ATI) as the entrance exam for these nursing programs:
The ATI TEAS consists of four sections: Reading, Mathematics, Science, and English and Language Usage. It takes approximately 3 1/2 hours to complete.
After completing the TEAS, you will receive instructions for accessing your score. If you have taken the TEAS at another college, you may elect to submit those scores as part of your application to the nursing program rather than retake it at SFSC. In that case, you must visit the ATI website to purchase and send an official TEAS transcript to SFSC.
SFSC's nursing programs accept applications from the second Monday in January through the second Friday in April. Prepare to take the TEAS in time for your test scores to be submitted in accordance with application process deadlines.
Scheduling

The TEAS is offered year around; however, you may only take the exam three times in a calendar year with a three-month wait period between testings.
Exam Day
On the day of your exam, bring in a valid form of photo identification. If you do not present a valid ID, your test will be rescheduled. Valid forms of ID are:
SFSC ID
Driver's license
State-issued photo ID
Passport
You must arrive at least 15 minutes prior to your scheduled test time.
Once checked in, you will be required to store all electronic devices and personal items in a secure locker prior to and during testing.
Testing candidates are the only ones allowed in the Testing Center; this includes children and guests of the testing candidate. Children are not allowed to be unattended outside of the Testing Center or any other area of the college during testing.
Fees
Contact the Test Department for current fees.
Retesting
If you wish to improve your scores, you may retake it after three months and up to a maximum of three times in a calendar year. You must retake the entire exam each time and not individual sections of it.
Helpful Links