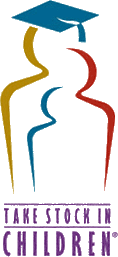 Sponsor a Scholarship
As a scholarship sponsor with Take Stock in Children, you provide a child hope for the future through education. Gifts of $50, $360 (just $1 a day for a year), or $1,000 will help fund a deserving student's scholarship. As an exclusive sponsor, your $7,140 contribution will pay for a local child's two-year college tuition. Or become a co-sponsor with a $3,570 contribution. As a scholarship sponsor, you are giving the greatest gift of all – education.
As a scholarship sponsor, you can:
Contribute to a local child's scholarship fund.
Meet the child you sponsor.
Rest assured that 100 percent of your contribution will go directly to sponsor a child in the program and that your gift is tax deductible.