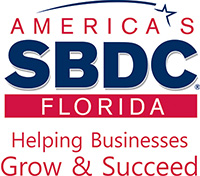 Are you interested in…
Increasing Sales?
Reducing Costs?
Improving Cash Flow?
Winning Government Contracts?
Obtaining Financing?
Improving Managerial Skills?
Starting a New Business?
Buying an Existing Business?
Writing a Business Plan?
If the answer is "yes" to any of the above, the Florida SBDC at USF can help you create a strategy to strengthen and grow your business.
The Florida SBDC at the University of South Florida, located at South Florida State College provides no-cost confidential consulting as well as business training webinars to aspiring, emerging, and existing entrepreneurs. No-cost individual consulting is by appointment, and there is no charge for webinars. Consultations can take place in person or virtually using Microsoft Teams. Services available for local businesses and entrepreneurs include consulting in the following areas:
Accounting
Advertising
Business Basics
Business Planning
Compliance Issues
Disaster Preparedness Planning
Financing
Government Contracting

Government Incentives
International Trade
Management
Marketing/SEO/Branding
Minority/Women Certification
Taxes
Technology Transfer
If you are ready to jump-start your business, want to attend business seminars, or seek one-on-one consulting, simply contact:
Randy Hayes
813-396-2795
rwhayes@usf.edu
and
Stacey Dadd, CME
813-396-2713
staceyp1@usf.edu
The Florida SBDC at USF is a member of the Florida SBDC Network, a statewide service network funded in part through cooperative agreements with the U.S. Small Business Administration (SBA), Department of Defense, State of Florida, and other private and public partners; hosted by the University of West Florida; and nationally accredited by the Association of SBDCs.
State Designated as Florida's Principal Provider of Business Assistance [§ 288.001 Fla. Stat.]
To access additional resources, please go to SBDCTampaBay.com.