Tutoring Info.
A "Tutoring" link appears on your course navbar in Brightspace. From the drop-down menu, you can access Smarthinking, Tutor.com, and SFSC Tutoring.
Smarthinking and Tutor.com are currently available year-round in the fall, spring, and summer and provide tutoring on a variety of subjects. Smarthinking and Tutor.com each offer one hour of free tutoring per term; if you have questions about Smarthinking or Tutor.com or to request additional free hours, contact Brightspace Support at 863-784-7017 or BrightspaceSupport@southflorida.edu.
Use the SFSC Tutoring link, also known as the Math, Science, and Writing Labs, to schedule math, science, and writing tutoring in the fall and spring. SFSC math tutoring is available all summer and writing tutoring during Summer A. Check for science tutoring availability in the summer. There is no limit to the number of SFSC Tutoring requests.
Currently the Math Lab in Y-103 on the first floor of the Building Y (Library) is closed as we are in the process of hiring a math lab specialist, but a student tutor will be providing math tutoring in the Writing Lab soon.
The Science Lab in HSEC-212 is open for Introduction to Biology and Anatomy & Physiology 1 and 2 appointments Monday and Wednesday from 1-5 p.m., Tuesday and Thursday from noon-4 p.m., and Friday from 9 a.m.-1 p.m. If a lab is taking place during these times, tutoring will occur in room 211 or 216. Online appointments should be available soon. Phone: 863-784-5624.
The Writing Lab in Y-105 on the first floor of the Building Y is open for appointments (via Zoom, email, and in-lab) Monday-Thursday from 9 a.m.-noon and 1-5 p.m. Phone: 863-784-7423.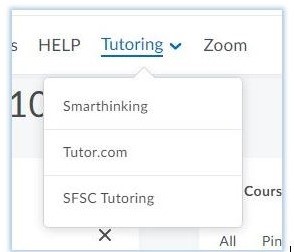 Additional Writing Resources
For additional online help with writing assignments, click on the Smarthinking tab in Brightspace in Panther Central for feedback on submitted drafts or visit these sites:
MLA and APA Resources
Videos
Other Online Writing Resources