Begin a Rewarding Career in Nursing
Nursing is a rewarding career, providing higher-than-average pay, job security, and opportunities for professional growth. Once nurses obtain essential degrees and certifications, they can branch out into any number of specialties, such as surgery, emergency and trauma care, neonatal, pediatrics, geriatrics, hospice, or mental health. Nurses may discover their calling in caring for elderly patients in a rural hospice, providing critical care and emotional support to victims of natural disasters, or vaccinating children in places where preventive care is scarce. Nurses who begin their careers as practical and registered nurses commonly go on to earn bachelor's and master's degrees in nursing and become nurse practitioners, educators, and administrators.
With the demand for nurses projected to grow by 20 percent over the next decade, the nursing profession offers job stability and higher-than-average wages, according to the Florida Department of Economic Opportunity, 2012-2021 Employment Projections Data. In DeSoto, Hardee, and Highlands counties, registered nurses earn approximately $30 per hour, while licensed practical nurses make approximately $20 per hour.
A Great Place to Start
SFSC's Nursing programs offer state-of-the-art laboratories and equipment and expose students to a variety of clinical settings.
SFSC's nursing educators developed The Seven C's of Caring as a guide for instilling in their students the knowledge, skills, and confidence to be successful as registered nurses, practical nurses, and nursing assistants. The quality of SFSC's Nursing programs is reflected by the fact that nearly 100 percent of graduates pass their state licensing exams each year.
Financial assistance is available to students who qualify. Talk to an SFSC advisor today to find out what makes SFSC the ideal place to begin and grow your career in nursing.
Accreditation
South Florida State College is accredited by the Southern Association of Colleges and Schools Commission on Colleges (SACSCOC) to award the associate and baccalaureate degree. Contact the Commission on Colleges at 1866 Southern Lane, Decatur, Georgia 30033-4097 or call 404-679-4500 for questions about the accreditation of South Florida State College.
South Florida State College's Nursing Programs are approved by the Florida Board of Nursing.
South Florida State College's Associate in Nursing Degree programs are accredited by the Accreditation Commission for Education in Nursing (ACEN), formerly the National League for Nursing Accrediting Commission.
South Florida State College's Bachelor of Science Degree in Nursing (BSN) program is accredited by the Accreditation Commission for Education in Nursing (ACEN).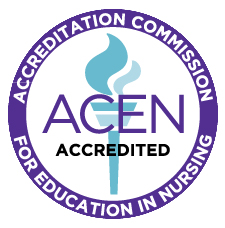 3343 Peachtree Road NE, Suite 850 • Atlanta, GA 30326
Phone: 404-975-5000 • Fax 404-975-5020 • www.acenursing.org
Year of most recently completed cohort: Associate Degree 2016-17
Graduates' success on the NCLEX-RN® licensure examination: 100%
National average for reporting year NCLEX-RN®: 84.36%
Students' completion of the nursing program: 87.2%
Graduates obtaining a job: 100%
Year of most recently completed cohort: Baccalaureate Degree 2016-17
Students' completion of the nursing program: 87%
Graduates obtaining a job: 100%